The Viewpad promises the best of both worlds: all the horsepower of a Windows tablet for work, and the fun of Android for touch-related tomfoolery. When it's good it's very, very good, but it has a couple of serious flaws – not least that you can't actually buy it yet. It was supposed to ship in October, but there's still no sign of it.
It runs Windows and Android
The Viewpad 100 is based on a simple fact: Android is a great mobile operating system and Windows works better for desktops. So why not have Android when you're out and about and Windows when you're at your desk? That's what the Viewpad 100 offers, with a dual-boot system that lets you choose the operating system you want.
It's a bit like a netbook
We're talking reasonable netbook specs here: a 1.66GHz single core Intel Atom processor and 16GB of solid state storage, expandable by up to 32GB via MicroSD cards. The screen is a large 10-inch multi-touch job, and while the whole thing looks like a chunkier iPad it's not hugely heavy to hold.
It's got a good Windows and an old Android
The Viewpad 100's operating systems are Windows 7 Home Premium, which is good, and Android 1.6, which is old. It's unclear whether you'll be able to upgrade your Android installation to something newer. Review units weren't able to switch between Windows and Android without restarting the tablet, but that's something Viewsonic is apparently working on.
Windows isn't great on a tablet
Windows 7 isn't a touch-based operating system; it's a desktop operating system with touch support added on. That's a crucial difference, and it means Windows simply isn't as finger-friendly as Android. It's not an operating system you'll want to use for long without plugging in an external keyboard - and if you're going to carry a keyboard around with you, you might as well get a Windows netbook instead.
It doesn't do 3G
The Viewpad 100 is Wi-Fi only, so you won't be able to connect to the internet when there are no nearby hotspots. If you've got a phone running Android 2.2 or later you could always use that to create a Wi-Fi hotspot that takes advantage of the phone's 3G connection.
The reviews have been pretty lukewarm
CNet said "we can't help feeling short-changed by the lack of 3G and an up-to-date version of Android"; Pocket Lint asked, "if you're going to use it as a netbook, why not just get a netbook?" and T3 noted that while it was an "interesting concept", "we're not sure who will be buying."
You might be better with two separate devices
At £550 the Viewpad 100 isn't cheap, and you might be better off with two dedicated devices: a decent netbook and a recent Android mobile would be just as practical, just as portable and considerably cheaper.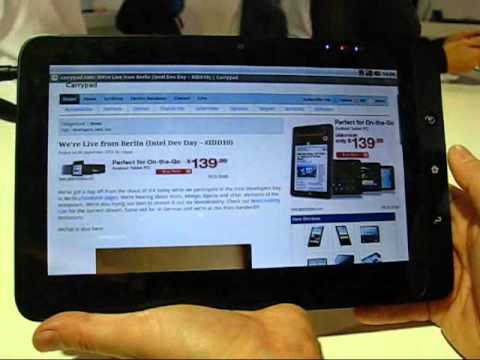 No related posts.
Tags: 3g, android, compare tablets, devices, netbook, operating system, price, review, reviews, screen size, tablet, touchscreen, viewpad 100, viewsonic, weight, wi-fi only, windows, windows 7