The much-rumoured Galaxy Tab successor has been unveiled, and it's bigger and better than the iPad-battling original. Does the Galaxy Tab 2 have enough oomph to stay ahead of the rest of the Android pack?
It's not called the Galaxy Tab 2
Samsung would much rather everyone called it the Galaxy Tab 10.1, but it looks like it's lost that battle so far: the entire internet clearly prefers Tab 2.
It's an Android 3.0 device
That's why there's no official release date just yet: Android 3.0 itself isn't quite finished.
It's got a 10.1-inch screen
You probably guessed that already. The touchscreen delivers 1280x800, which is better than the iPad, and there's a dual-core 1GHz processor with a gigabyte of RAM behind the glass to deliver full HD video playback. It's no porker: the Tab 2 is just over half a kilo in weight and just under 11mm thick.
The main camera is 8 megapixels
We're not convinced that tablets are any cop as cameras - they're awkward and bulky and less comfortable than even the clunkiest point-and-shoot - but with 8 megapixels in its rear facing camera the Tab 2 has more megapixels than its rivals. That's good enough for HD video capture, but the resolution is just part of the story: the quality of the sensor is more important than the number of dots it can handle, and there aren't any shot for shot or frame for frame comparisons between the Tab 2 and its rivals yet. As with other Android tablets you also get a 2MP front-facing camera for video chat.
It's got fast 3G
The usual Wi-Fi and 3G is supplemented with support for HSPA+, a tweaked form of 3G that delivers faster download speeds. The Tab 2 can handle up to 21Mbps where networks support it.
It's on Vodafone
As with its predecessor, the Tab 2 will be coming to the UK on Vodafone. Prices haven't been announced yet but expect the usual range of discounts if you go for the more expensive monthly contracts.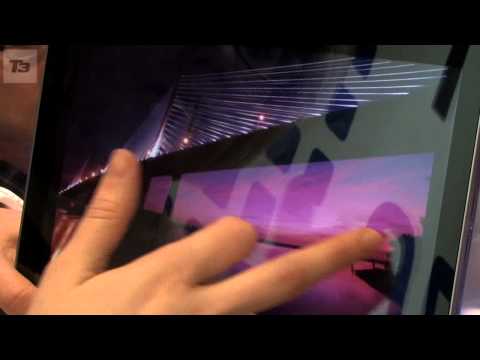 Related posts:
Samsung Galaxy Tab Review It's not quite as successful as Samsung claims, but there's...
Motorola Xoom Motorola's going through something of a purple patch just now,...
2011 The Year of the Tablet Tablets will be everywhere this year. Where 2010 was largely...
Tags: 10.1 inch screen, 3g, 8.0 megapixel camera, android, android 3.0, android tablets, camera, hd playback, ipad, monthly contracts, samsung galaxy tab 2, samsung galaxy tablet 10.1, samsung tablet, size, tab 2, touchscreen, uk, vodafone, weight, wifi