HTC makes some of the world's most popular Android smartphones, so the news that it's making a tablet is going to make lots of people happy. With the iPad 2 imminent, is HTC too late to the party?
It's a seven-incher
The HTC Flyer has a seven-inch, 1024x600 display and a 1.5GHz processor and 1GB of RAM. There's 32GB of internal storage via a microSD memory card, WiFi, Bluetooth 3.0 and 3G, GPS and the usual light sensor and digital compass. There's a 5 megapixel camera on the back and a 1.3 megapixel camera on the front for video chat. As with all HTC kit it's not bad looking and it's well screwed together.
It's running Android 2.3
Android 3.0 is still being finalised, so in the meantime handsets are stuck with Android 2.3, aka Gingerbread.
It's got a pen
The "magic pen" is the HTC Flyer's unique selling point. "It can draw, paint, write and even retouch pictures," HTC says. "It's a stylus," we translate.
It has a kid mode
A good idea, this: Kid Mode hides your gory games and online banking, making your Flyer child-friendly and offering games, storybooks and pen- and finger-based drawing applications.
It runs HTC Sense
HTC Sense is HTC's attempt to improve the Android user experience, and it's made its way to the Flyer too. We're not convinced that Sense works at larger sizes: even on the seven-inch Flyer the tweaked interface feels a little bit stretched. We're worried we might feel like we're holding an HTC smartphone and somebody's zapped us with a shrink ray.
It'll cost just under £600
According to Amazon.de, the HTC Flyer will cost €699, which works out at just under £600. There's no sign of a UK release date just yet.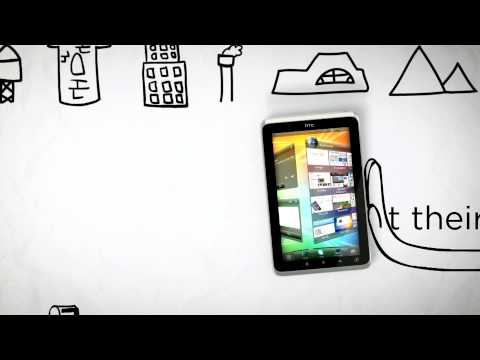 Related posts:
Tags: 3g, 7 inch screen, android 2.3 gingerbread, cost, htc, htc flyer, htc flyer review, htc flyer tablet, htc sense, kid mode, magic pen, pricing, processor, release date, size, specifications, tablet review, weight, wifi