Could this be the iPad killer? HP's Touchpad is beautifully engineered and has a gorgeous new operating system. If the price is right it could be a serious contender.
It runs WebOS
When HP acquired smartphone maker Palm, it acquired Palm's WebOS operating system - and that looks like a smart buy, because WebOS has got the pundits drooling. Where Android's interface (especially on devices running Android 2.x) is something of a Marmite job, WebOS is so pretty you'd think it came from Apple.
It's powerful
The 9.7-inch screen means it's a dead ringer for the iPad, but there's some powerful hardware inside: a dual-core 1.2GHz processor, 512MB of RAM and 16GB or 32GB of solid state storage. There's a front-facing camera, Dr Dre's Beats Audio system to make MP3s sound better and a battery life HP claims is good for eight hours.
It comes in several flavours
There will be Wi-Fi-only and Wi-Fi/3G models, with a 4G model for the US market following on later. HP may be working on a WebOS netbook too.
It has its own App Store
HP's app store only has a few thousand apps so far, but they include big names such as Time magazine.
It might be out in September
Engadget obtained a leaked marketing slide pointing to a September launch in the UK and America.
Its price is a secret
Nobody knows how much the Touchpad will cost. Bearing in mind that September is a very long time away - there will be stacks of new Android tablets and an iPad 2, maybe even an iPad 3 to worry about by then - if it isn't priced keenly it could prove to be a tough sell. If HP gets the price right, however, the Touchpad could be a huge success.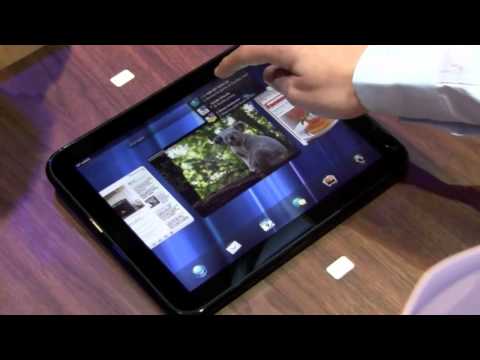 Related posts:
Motorola Xoom Motorola's going through something of a purple patch just now,...
Tablet news from Mobile World Congress 2011 Mobile World Congress (MWC) is a very big deal -...
Tags: hp, hp app store, news, operating system, pad, price, pricing, processor, release date, specifications, tablet, tablet news, touchpad, usa, webos, wifi